We all know what software asset management, or shortly SAM, is by now (otherwise check out our blog "What is ITAM"). However, what some of us ignore is how your SAM practise can benefit from using technology. Software asset management tools are essential to add value through the management of the increasing complexity of license metrics and the consumption of these licenses (whether on-premise or in the cloud).
Gartner defines software asset management tools as products that provide automation to support the tasks required to maintain compliance with software license use rights. The tools provide in-depth data that can be used for all kinds of software analysis. This can be where and how the software is deployed in your organization (e.g. which version of the software, if it is part of a bundle, is the software virtual or physical, and if the user has the right to use the software).  
SAM tools can be divided into seven discrete activities according to Gartner: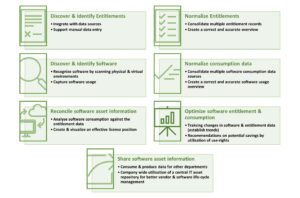 Nowadays there are a lot of SAM tools on the market, for example Snow Software, Flexera, Aspera, ServiceNow etcetera. Which tool suits the needs of your organization? The ITAM-Unit has hands-on experience with almost every SAM Tool on the market and partners with the industry-leading SAM Tool vendors. We can help you with selecting the right tool based on your organization's needs, implementing the tool, and getting your team ready to explore and benefit from all that the tool has to offer!